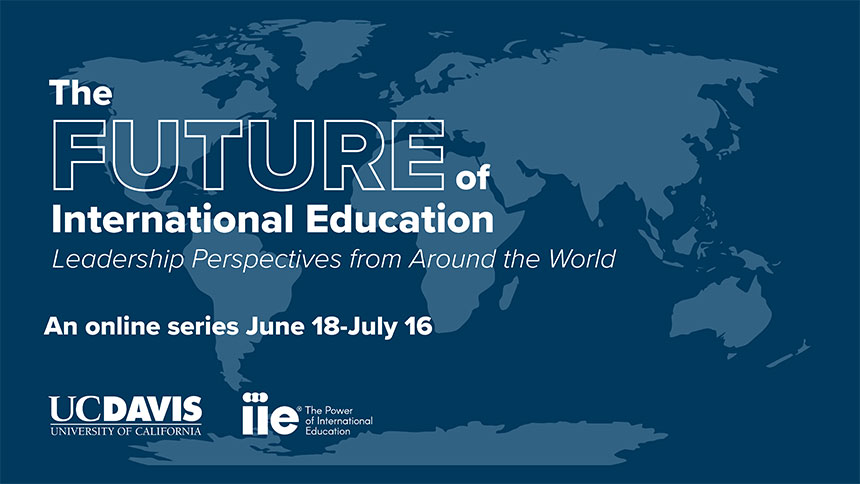 Perspectives from around the world on the impact of the COVID-19 pandemic and the future of international education will meet in an online series of public conversations with distinguished university chancellors and presidents beginning June 18.
Co-hosted by the Institute of International Education, or IIE, and the University of California, Davis, the live conversations will explore the consequences of COVID-19 and what they mean for global engagement and the future of both higher and international education this year and beyond.
UC Davis Chancellor Gary S. May and IIE President Allan E. Goodman will alternate as moderators and be joined by academic leaders, who will share their insights and next steps related to the emerging opportunities and challenges.
Importance of partnerships, collaborations
"In this critical moment and with great uncertainty ahead, universities are navigating the health and financial repercussions of the crisis," they wrote to other academic leaders. "As we continue to serve our campus community and engage with the world in the current environment, international and global partnerships and collaborations are more important than ever."
"The Future of International Education: Leadership Perspectives From Around the World" will include an introductory global panel June 18, and the remaining four will focus on Africa (June 25), Asia and Oceania (July 2), Europe (July 9) and Latin America (July 16).
"The series will focus on the responsibility of higher education and international education in times of global crisis and afterward," said Joanna Regulska, vice provost and associate chancellor of Global Affairs at UC Davis. Her office and the Office of Diversity, Equity and Inclusion at UC Davis are partnering to help organize the series.
Regulska said she anticipates that leaders will discuss the roles of global research and global learning, the ways in which universities can bridge the local and the global, and how universities should address social and economic inequalities that are exacerbated by COVID-19.
The first panel, on June 18, will feature May of UC Davis; Louise O. Fresco, president of the executive board of Wageningen University & Research in the Netherlands; and Fadlo R. Khuri, president of American University of Beirut in Lebanon. It will begin at 8 a.m. PDT (3 p.m. UTC).
Regional panels
Other panelists, to be named later, will be from institutions in each region: 
Africa — Thursday, June 25, at 9 a.m. PDT (4 p.m. UTC). Moderated by May.
Asia and Oceania — Thursday, July 2, at 6 p.m. PDT (July 3 at 1 a.m. UTC). Moderated by Goodman.
Europe — Thursday, July 9, at 8 a.m. PDT (3 p.m. UTC). Moderated by Goodman.
Latin America — Thursday, July 16, at 9 a.m. PDT (4 p.m. UTC). Moderated by May.
The hourlong sessions, open to the public, will be presented in audio only on the GoToWebinar platform. For each session, advance registration is required and will close when seats are filled.
About UC Davis
UC Davis is one of the top-ranked universities in the world, and its experts are helping address  the pandemic and other global challenges. Through Global Education for All, the campus is implementing an ambitious plan to provide all students with international or intercultural experiences — whether on campus or one of the seven continents. Recently, UC Davis shared the top ranking among U.S. universities for diversity and internationalization, and the university was named a recipient of the 2020 Simon Award for Comprehensive Internationalization.
About the IIE
The Institute of International Education administers the world's most prestigious and innovative programs in international education and exchange, including the Fulbright Programs of the U.S. Department of State, The Language Flagship of the U.S. Department of Defense, and the Ford International Fellowships Program. Founded in 1919, IIE promotes the exchange of scholars and students; rescues scholars, students, and artists from persecution, displacement, and crises; conducts research on international academic mobility; and administers more than 200 corporate, government and privately-sponsored programs. 
Media Resources
Julia Ann Easley, UC Davis News and Media Relations, 530-752-8248, jaeasley@ucdavis.edu
Primary Category
Secondary Categories
Tags