Quick Summary
A summary of UC Davis' role in preserving land in California
In 2015, the University of California passed the half-century mark in maintaining preserved lands from the coast, to grasslands, to woodlands — all used for research, teaching and learning. UC Davis maintains five of the system's reserves. Learn more about them:
1. The UC Natural Reserve System is the largest network of protected sites dedicated to research and university teaching in the world: 39 reserves; 756,000 acres, spanning California's ecosystems.  The system has grown to include all the non-medical campuses of the University of California.
2. Five UC Davis Natural Reserve System properties protect a huge diversity of habitats, all within a two-hour drive of campus. Ocean, intertidal, wetland, dune and prairie habitats are found at Bodega Marine Reserve, uncommon serpentine soils and rare plants at McLaughlin Reserve, spectacular oak woodlands and native grasses at Quail Ridge and Stebbins Cold Canyon, and remnant vernal pools with a huge array of endangered species at Jepson Prairie.
3. The UC Natural Reserves are anchoring place-based climate change research in California.  In 2015, UC President Janet Napolitano granted a Research Catalyst Award for the creation of a coordinated, reserve-based climate change institute, reinforcing the statewide network.
4. NRS reserves turn natural catastrophes — like the devastating wildfires that struck California this summer — into opportunities to build upon long-term data. When fire burned large portions of Stebbins Cold Canyon and McLaughlin reserves this summer, researchers had already accumulated decades' worth of data on subjects like animal-transmitted diseases, rodents, butterflies and moths, ants, and native plants and weeds. Against this backdrop of data, changes after the fires may be revealing for the future of California under a changing climate.
5. Stebbins Cold Canyon Reserve is playing a pivotal role in the new Berryessa Snow Mountain National Monument, both as a protected natural site for research, teaching and citizen science, and as an example of successful partnerships of UC Davis with federal, state and local agencies and regional governments, focused on high-quality recreational opportunities.
6. UC Davis Natural Reserves are testing grounds for new environmental technologies. Ground-breaking animal tracking systems are currently being tested at Quail Ridge Reserve, built upon an infrastructure grid designed by researchers from the UC Davis Department of Computer Science and reserve staff.
7. Bodega Marine Reserve is a key piece in a new California Marine Protected Area. Reserve staff have taken a leading role in coordinating the needs of researchers with the high levels of protection that are now afforded the coastal ecosystems, ensuring that cutting edge research can continue.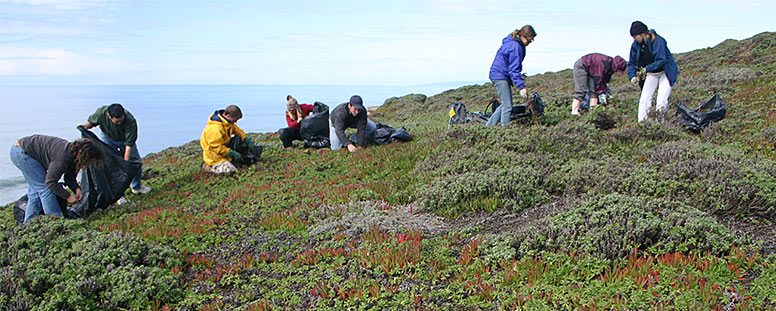 8. UC Davis Natural Reserves offer a rich setting for community engagement and learning; they host initiatives such as the Jepson Prairie Docent Program, "Kids into Discovering Science" at McLaughlin Reserve, and family activities led by undergraduates at Stebbins Cold Canyon. These programs cultivate environmental leaders and enrich the outdoor experiences of hundreds of regional community members each year.
9. Over the past two years, UC Davis faculty from throughout the university, plus most of the schools, have used the reserves for research, teaching and public outreach. 
10. Of 124 field classes listed in the UC Davis catalog, an impressive 70 of these have used UC Davis Natural Reserves as teaching sites, most repeatedly.
Primary Category
Secondary Categories
Tags