Subscribe to the Capital Culture List on iTunes, Stitcher, blubrry, and Google Play Music.
---
THEATER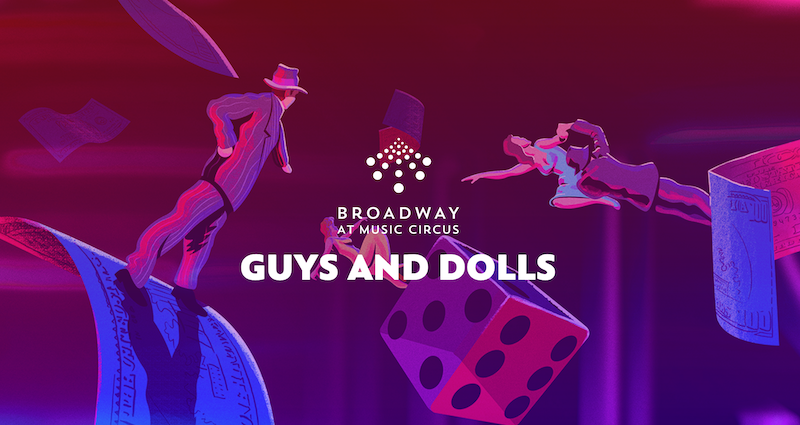 Guys and Dolls
Through Sunday, July 28
Broadway at Music Circus
1419 H Street, Sacramento, CA 95814
A high-rolling gambler attempts to woo a strait-laced missionary in this romantic comedy classic. Set in the 1940s in New York City's unsavory Hell's Kitchen neighborhood, gangsters, gamblers and showgirls go for broke in the game of love and marriage. This multiple Tony-winning show is considered by many to be the quintessential musical comedy, with an infectious score by Frank Loesser including "Luck Be a Lady" and "Sit Down, You're Rockin' the Boat."
---
Sacramento Shakespeare Festival: Shakespeare in Love
Through Sunday, July 28
Sacramento City College Performing Arts Center
3835 Freeport Boulevard, Sacramento, CA 95822
A stage adaptation of the critically acclaimed 1998 film.
Penniless and indebted to two demanding producers, struggling young playwright William Shakespeare is tormented by writer's block until he meets the beautiful Viola de Lesseps, daughter of a wealthy merchant, whose fiery passion for poetry and drama leaves her secretly longing to be an actor. Both are despondent when they learn that Viola's father has promised her to the stuffy Lord Wessex in order to gain a title for their family. Under the veil of secrecy, Will and Viola's passionate love affair becomes the basis of the very play he is writing — Romeo and Juliet. With opening night – and the wedding day – fast approaching, the plots race toward a parallel conclusion. Will it all work out in the end or are the two star-crossed lovers destined for tragedy?
The Sacramento Shakespeare Festival, which is produced by City Theatre at Sacramento City College, strives to provide top quality Shakespeare performances and training to the Sacramento community.
---
Davis Shakespeare Festival: The Tenth Muse & A Gentleman's Guide to Love and Murder
Through Sunday, August 4
Davis Veterans Memorial Theater 203 East 14th Street, Davis, CA 95616
For its 10th summer season, Davis Shakespeare Festival returns presents two productions in repertory.
The first play is the regional premiere of "The Tenth Muse." In eighteenth century colonial Mexico, three young women meet in the convent of San Jeronimo with the threats of the Spanish Inquisition, the plague and their own dangerous secrets at their back. Despite the challenges facing them, the women come together to celebrate and protect the writings of Sor Juana Inés De La Cruz, one of Mexico's most beloved poets. One of the most acclaimed productions from Oregon Shakespeare Festival's 2013 season, The Tenth Muse features live music and an all-female cast.
The second is "A Gentleman's Guide to Love and Murder." Join Monty Navarro on his quest to become Earl of the famous D'Ysquith Family in this zany musical comedy! It's early twentieth century London and the destitute Monty has just learned he is ninth in line to become Earl of Highhurst Castle. Will a succession of eight elaborate "accidental" and hilarious deaths lead him to this coveted position? A Gentleman's Guide was the most-nominated musical of the 2014 Tony Awards, winning Best Musical.
---
ART
Landscape Without Boundaries: Selections from the Jan Shrem and Maria Manetti Shrem Museum of Art
Through Sunday, December 15
Jan Shrem and Maria Manetti Shrem Museum of Art
254 Old Davis Road, Davis, CA 95616
The artists in and around Davis represent a singularly vital mix of approaches to the idea of the landscape in art. Encouraged by the land in which they lived and worked, our artists used the idea of landscape variously as a way to map psychology, the basis of surrealist images, or the raw material for a freshly invented world. How painting, sculpture, and drawing addressed and reflected the Northern California landscape in the years after World War II is revealed through significant works by artists including Robert Arneson, Joan Brown, Bruce Conner, Gladys Nilsson, Martin Ramirez, and Wayne Thiebaud.
---
Kathy Butterly | ColorForm
Through Sunday, December 29
Jan Shrem and Maria Manetti Shrem Museum of Art
254 Old Davis Road, Davis, CA 95616
A graduate of UC Davis (MFA 1990), Butterly's art has strong historical roots in the work of California sculptors such as Viola Frey and Ken Price, as well as her mentor here at Davis, Robert Arneson.  Charting the evolution of Butterly's career through over 70 works of art spanning 1989 to the present, the exhibition especially highlights the last ten years of her work and features sculpture specially made for this occasion. Butterly is distinguished by her personal and emotionally-accessible sensibility and her ceramic language of line, form, and color. A full-color hardcover catalog featuring new essays by leading critics will accompany the exhibition.  This is Butterly's first retrospective exhibition.
---
MUSIC
Jazz Night with the Wayne Wallace Latin Jazz Quartet
Thursday, July 25
5:30pm
Crocker Art Museum
216 O Street, Sacramento, CA 95814
World renowned trombonist, composer, arranger and producer Wayne Wallace rocks the stage with his Grammy-nominated Latin Jazz Quartet. One of this generation's most eloquent trombonists, Wallace's music has been described as "Afro-Cuban jazz that shakes, quakes, and practically immolates." Along with the concert, attendees can enjoy all the museum has to offer, including special exhibitions, gallery talks, the Museum Store and dinner and drinks at the Crocker Cafe by Supper Club. For the best seat in the house, bring your own chair. There is limited seating provided, standing room to mingle, and plenty of space to dance.This summer's prelude music will be provided by the Beth Duncan Quartet on the Café Stage from 5:30pm to 6:15pm.
---
They're teaming up for a night of iconic hits from the 80's. The tour is primarily in support of Welsh alternative rock/new wave band The Alarm's latest album, Sigma, which just came out a couple weeks ago.  
---
Preservation Hall Jazz Band
Monday & Tuesday, August 5 – 6
Harris Center
10 College Parkway, Folsom, CA 95630
The Preservation Hall Jazz Band has held the torch of New Orleans music aloft for more than 50 years, all the while carrying it enthusiastically forward. Their 2017 release "So It Is" taps into a sonic continuum that stretches back to New Orlean's Afro-Cuban roots. At a moment when musical streams are crossing with unprecedented frequency, it's crucial to remember that throughout its history, New Orleans has been the point at which sounds and cultures from around the world converge, mingle and resurface, transformed by the Crescent City's inimitable spirit and joie de vivre. Nowhere is that idea more vividly embodied than in the Preservation Hall Jazz Band.
---
Primary Category
Tags