The noon concerts kick off the fall concert season with "A Recital of American Music" with many familiar pieces to enjoy during your lunch hour. Don't miss the first Design Museum exhibit of the new year starting next week. And there's much more art in the region now and in the coming week. 
First Noon Concert of fall features 'A Recital of American Music' at Pitzer
Friday, Sept. 29, 12:05 – 1 p.m.
Recital Hall, Ann E. Pitzer Center, free, a Shinkoskey Noon Concert
Dagenais Smiley, violin and UC Davis lecturer in music with John Cozza, piano
The program includes Amy Beach: Romance for Violin and Piano, Aaron Copland: Four Piano Blues​, Samuel Barber: Canzone for Violin and Piano​, George Gershwin: Summertime / A Woman Is a Sometime Thing, Copland: Sonata for Violin and Piano, and Gershwin: It Ain't Necessarily So.
This recital features 20th-century American music, with transcriptions by famed Russian-Lithuanian-American violinist Jascha Heifetz, from George Gershwin's Porgy and Bess, as well as Samuel Barber's own transcription of the second movement of his Piano Concerto.
A native of Northern California, Dagenais Smiley earned her bachelor of music degree at the Oberlin Conservatory as a student of Milan Vitek and her master's degree from USC under the instruction of Kathleen Winkler. She is proud to have worked under such notable conductors as Leon Fleisher, David Zinman, Robert Spano, Michael Tilson Thomas, and John Williams. She has participated in master classes given by Yuval Yaron, Kathleen Winkler, Alexander Barantschik, Fritz Gearhart, the Calder Quartet, and Glenn Dicterow.
Find more information here.
Next week starts

Woven Air: Dhakai Jamdani Textile From Bangladesh

at the Design Museum
Oct. 3 – Dec. 11
Design Museum, UC Davis campus, free
Woven Air: Dhakai Jamdani Textile From Bangladesh, an exhibition of traditional Bangladeshi textiles noted for a weaving technique that creates surface decorations, opens at the UC Davis Design Museum on Oct. 3.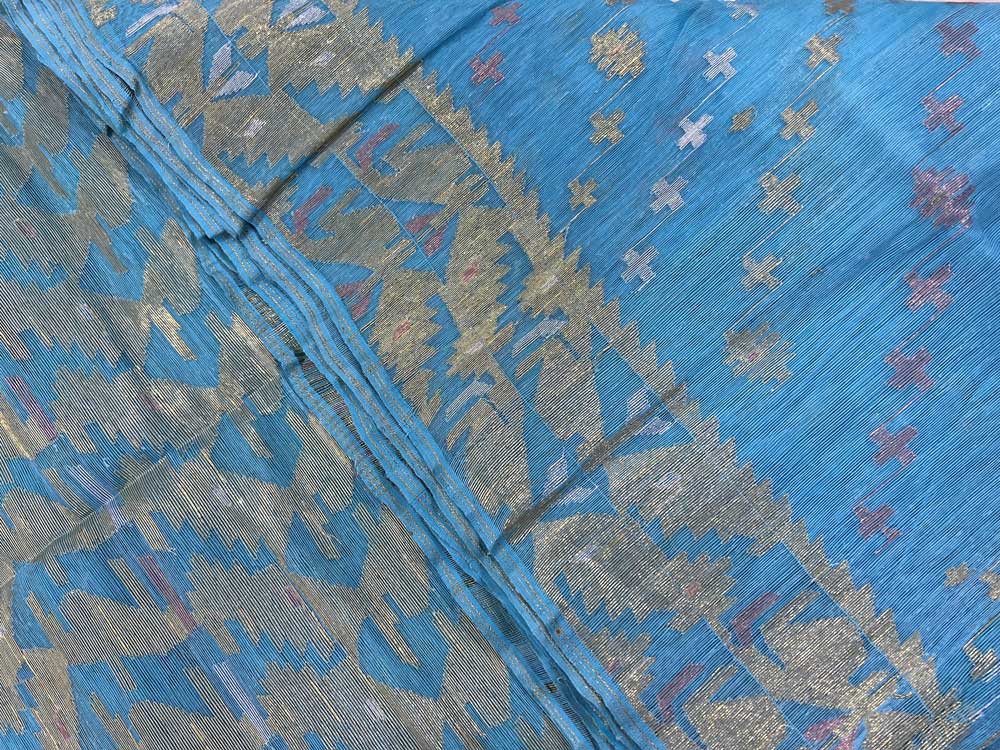 This exhibition features fine-count Jamdani, the ornate textile that has experienced a revival in Bangladesh. Jamdani artisans employ the same weaving techniques of two different thread densities, with the denser wrap thread inlaid with the fine warp thread to create tactile motifs and designs that are primarily flowers.
Ongoing at the Manetti Shrem; A Trio of Exhibits
Roy De Forest: Habitats for Travelers
First-generation art faculty member and UC Davis Professor Emeritus Roy De Forest (1930-2007) is beloved for his colorful narrative figurative paintings, drawings and prints. Printmaking offered De Forest a means to explore his visual vocabulary — to experiment with the colors, textures and mark-making unique to the medium.
Loie Hollowell: Tick Tock Belly Clock
Hollowell, a rising star in the art world, grew up in Woodland, California, and is the daughter of longtime UC Davis Professor Emeritus David Hollowell. Known primarily for paintings and drawings that map the body through both figuration and abstraction, New York-based artist Loie Hollowell draws from her own life experiences in her work.
Find more information on all three exhibits here.
In addition to items from exhibition curator Hafsa Akter's own collection, some pieces have been acquired by Akter from contemporary artisans for this installation and include a mix of fabric as well as saris and other clothing items. After the exhibition, she will donate some pieces to the Jo Ann C. Stabb Design Collection at UC Davis, which supports and enhances the teaching and research goals of the Department of Design and its curriculum.
Jamdani was produced for centuries in South Rupshi of Narayanganj district in Bangladesh. Under British colonialism, the Jamdani and muslin industries rapidly declined due to colonial import policies favoring industrially manufactured textiles.
"Bangladeshi artisans and craftsmen can weave the finest quality hand-weaving textile," said Akter, a UC Davis graduate student in design and native of Bangladesh. "With this exhibition, I wanted to showcase my culture and its rich background correlated with textile making."
The Design Museum, part of the College of Letters and Science and free to the public, is in Cruess Hall, Room 124. It is open weekdays from noon to 4 p.m.
Alumni in

The New West

at Sac State
Through Dec. 10
Torreya Cummings (B.A., '99) and Terry Peterson (M.F.A., '12) explore the natural world in a digital context in a two-person exhibition, The New West: The Natural Environment in the Digital Age, currently on view at the Library Gallery at Sacramento State.
Find more information here.
---
Professor Rosen in solo show at Anglim/Trimble in San Francisco
Through Oct. 29, opening reception Saturday, Oct. 1, 4 – 7 p.m.
Professor Annabeth Rosen's new solo show "Into the Deep" takes a look at some of her latest works. This show at Anglim/Trimble focuses on Rosen's works on paper and collage and three of her newest ceramic pieces.
Anglim/Trimble is located at 1275 Minnesota Street, San Francisco.
Find more information here.
---
Steve Briscoe and Lynn Beldner at the Pence
Steve Briscoe will be showing at the Pence Gallery in Davis from Oct. 5 to Nov. 5 with a reception on Friday, Oct. 14 from 6 – 9 p.m. This show will display all his work (with a few exceptions) from the last couple of years. 
Lynn Beldner is also showing with her art group in another part of the Pence. Her show "Interwoven" runs Oct. 11 to Nov. 22. Some of the group, including Lynn, will participate in a talk at the gallery Sunday, Oct. 23 at 2 p.m. 
Other artists in the group show with Lynn Beldner include Joan Jarvis, Hannah Klaus Hunter, Rachel Kline, Jamie Madison, Edith Sauer Polonik, Sara Post and Binuta Sudhakaran.
Gallery hours are Tuesday – Sunday, 11 a.m. – 6 p.m. 
Modern Women | Modern Vision at the Crocker
Photography from the Bank of America Collection
Oct. 2 – Dec. 31
Histories of photography long ignored or underrepresented women's contributions to the medium's development as both fine and applied art. In truth, women embraced photography from its introduction in 1839. Disrupting longstanding constraints placed on women's social behavior and roles, these early trailblazers laid the groundwork and served as role models for subsequent generations of artists. This exhibition, drawn from Bank of America's extensive photography collection, presents more than one hundred images made between 1905 and 2015. Diverse in style, tone, and subject, these images made by women range from spontaneous to composed, detached to empathetic, monumental to intimate. Cindy Sherman, Imogen Cunningham, Carrie Mae Weems, Dorothea Lange, Diane Arbus, Bernice Abbott, Tomoko Sawada, Ruth Orkin, Barbara Kruger, and other photographers are included, their work revealing the bold and dynamic ways women have contributed to the development and evolution of the medium.
This exhibition has been loaned through the Bank of America Art in our Communities® program.
Find more information here. 
Coming Up
San Francisco Symphony at Mondavi
Thursday, Oct. 6, 7:30 p.m., Mondavi's Jackson Hall
The San Francisco Symphony performed the first concert in the Mondavi Center in October 2002. They return to celebrate a 20-year partnership, now under the guidance of music director Esa-Pekka Salonen. This celebratory evening features a rich program: a U.S. debut of new piece by British composer Daniel Kidane; Sibelius's lovely tone poem Luonnotar featuring South African soprano Golda Schultz; and a complete rendering of Stravinsky's breakthrough ballet score, The Firebird. 
Find more information here.
Sl(e)ight Ensemble: 'Of California Ecology' at Pitzer
Oct. 6, 12:05 – 1 p.m.
Recital Hall, Ann E. Pitzer Center
A Shinkoskey Noon Concert​, free
Erika Oba, flute; Stephanie Neumann, saxophone; Jacob Lane, piano and UC Davis graduate student of music
Stephanie M. Neumann: Creek/to\Ocean, Kian Ravaei: California Suite, Julie Herndon: Shadow Prism
"Of California Ecology" features new works based on different facets of California's natural world. The trio will perform compositions by ensemble members, Julie Herndon, and Sl(e)ight Ensemble's 2020 call-for-scores winner Kian Ravaei. Drawing on the artists' distinct backgrounds in jazz, band, and chamber music, the program is inspired by seismic activity, fungal biomes, waterways, and social ecology, among other natural phenomena. The result is a diverse set of works all created with the aim of bringing appreciation to California's beautiful and delicate environment. 
This program was originally made possible with the support of InterMusicSF.
Founded in 2015, Sleight Ensemble is a group of composers/performers focused on the realization of new music in the San Francisco Bay Area. The ensemble's performances have included concerts at The Center for New Music (S.F.), The Simm Series (S.F.), Octopus Literary Salon (Oakland), and The Musical Offering (Berkeley) and have featured collaborations with artists such as composer Stephen Parris, violinist Mia Bella D'Augelli, cellist Devon Thrumston, and composer/visual artist Jessie Austin. 
Graduate Student Works for Percussion next week
Oct. 7, 5 p.m.
Recital Hall, Ann E. Pitzer Center
The program includes works by Paul Engle: Cavities, Joseph Donald Peterson: Put the kettle on, Jacob Lane: Ritornello, Colin Minigan: Shaped Scattered, Bryndan Moondy: devant l'eau noir (Glint II), and Adam Strawbridge: counter_culture.exe.
Art Social Media of the Week
Media Resources
Subscribe to the UC Davis Arts Blog Newsletter to see all the arts highlights of the fall. kmnikos@ucdavis.edu
Primary Category
Tags