Today:

Lunn lecture features Maya Phillips on the 'Multiverse of Madness'
New York Times Cultural Critic Maya Phillips will explore "Storytelling in the Multiverse of Madness" in a talk on Thursday, May 5 at 4:10 p.m. at the Jan Shrem and Maria Manetti Shrem Museum of Art at UC Davis — one day before Dr. Strange opens in theaters nationwide.
The multiverse, long a topic of science fiction and fantasy, seems to be popping up in narratives everywhere. 
The concept that originated in quantum mechanics features prominently in the "Rick and Morty" animated TV series, the recent film Everything Everywhere All At Once and the latest Marvel movie, Dr. Strange in the Multiverse of Madness.
The annual Lunn Lecture commemorates Eugene Lunn, a cultural and intellectual historian who taught at UC Davis from 1970 until his death in 1990. The lecture is supported by a donation from alumnus Michael Tennefoss (B.A., political science and economics, '80). Free and open to the public. See more here.
The Living Earth Show: 'Affirmative Action' at Recital Hall
Thursday, May 5, 12:05 – 1 p.m.
Recital Hall, Ann E. Pitzer Center, Free, A Shinkoskey Noon Concert
A collaborative trio featuring Zachary James Watkins and The Living Earth Show , or TLES: The three artists are continuing a multi-year collaborative exchange that merges the musicians' shared musical histories and vocabularies steeped in improvised, electroacoustic, experimental, and classical chamber music. Since 2016, the trio has created an evening-length production of new works by six artists of color curated by Watkins and performed by TLES, various workshops, and several full-length recordings.
The Living Earth Show (aka TLES, is guitarist Travis Andrews and percussionist Andy Meyerson) is a megaphone and canvas for some of the world's most progressive artists. They are artists in residence at UC Davis for three significant projects in 2022 at UC Davis: "Music for Hard Times" (March 10), "Tremble Staves" (March 12), and "Affirmative Action" (May 5). The duet was listed in a recent write-up by the Washington Post in its "22 for '22: Composers and performers to watch this year."
Find a direct link to the livestream here.
Last chance for Manetti Shrem exhibitions ending Sunday
William T. Wiley and the Slant Step: All on the Line
Explore the world of  William T. Wiley, UC Davis professor emeritus, through his formative early works (1962-69) and collaborations with Bruce Naumann. The exhibition also reunites many of the Slant Step objects made by both artists and debuts Slant Step (Scanned), a new media artwork by Nauman. 
Mary Heilmann: Squaring Davis
California native Heilmann did an independent study with Wiley and also became friendly with Bruce Nauman in the late 1960s. Although she moved to New York and went on to become a preeminent contemporary abstract painter, her time in California during the 1960s was an important influence on her work. This focus show reunites her rarely seen early sculpture and a series of "Davis Square" paintings she created in 1977. 
Both exhibitions are on view through May 8.
Ashwini Bhat & Forrest Gander at Vanderhoef
Friday, May 6, 3 p.m., Vanderhoef Studio Theatre, Free
In Ritual Encounters the Vanderhoef Studio Theatre is reconfigured as a kind of temple that celebrates the secular, sacred environment of Mount Tamalpais. Visitors to this installation are invited to circle in a ritual walk ceramic monuments and biomorphic sculptures that are ringed by dirt mandalas that are themselves edged with hems (hymns) of words. Through immersion in video, sculpture, poetry, and the clockwise movement of their own bodies through the exhibition, viewers can experience (or recall) their own link to the non-human world, and to reevaluate the ground they stand upon, both physically and ethically. 
Ritual Encounters is the work of artists Ashwini Bhat and Forrest Gander. Bhat's background is in literature and classical Indian dance, but she now works at the intersection of sculpture, ceramics, installation and performance. Gander is a writer and translator of poets from Spain, Latin America and Japan. His recent work includes the Pulitzer Prize-winning Be With.  Find more information here. 
Lara Downes, pianist | Clarice Assad, composer and vocals | Britton-René Collins, percussionist:

World of Change and Promises to Keep
Friday, May 6, 7:30 p.m., Jackson Hall, Mondavi Center
World of Change is an extended suite of pieces by Clarice Assad for pianist Lara Downes, reflecting on global transformation, disruption and destruction, renewal and rebirth. As we navigate a changed World, how do we reimagine the nature of time and space, of human relationships, and our residence on this planet? This full-length program also features Promises To Keep, a suite of new solo piano miniatures written by a variety of composers for Lara Downes and inspired by the vision of internal promise and change.
Downes has been a steady fixture on Mondavi Center stages, an artist who "combines exquisite musicality with an acute awareness of how an artist can make a positive and lasting social impact." (The Piano) Clarice Assad is a Grammy-nominated composer, celebrated pianist, inventive vocalist and educator renowned for evocative colors, rich textures and diverse stylistic range.
Co-commissioned by the Clarice Smith Performing Arts Center, University of Maryland and the Robert and Margrit Mondavi Center for the Performing Arts, UC Davis
Find more information and purchase tickets here.
Anne M. Guzzo, composer: a Valente Lecture
Thursday, May 5, 4 – 5:30 p.m., Room 266, Everson Hall
Anne Marie Guzzo is an internationally performed composer and the founder of New Frontiers Festival of contemporary music based in Laramie, Wyoming. Passionate about new music, Guzzo performs regularly and teaches composition and theory at the University of Wyoming. Research interests include the music of Pulitzer Prize-winning composer, Shulamit Ran, the cartoon music of Carl W. Stalling, silent movie music, and musical absurdism.
Cary Peñate 'Book Talk Series' Lecture: 'Black Ritual as Spectacle: Afro-Cuban Religion in the Popular Imaginary'
Friday, May 6, 12 – 1:30 p.m.
Risling Room 3201, Hart Hall
Cary Peñate is a film musicologist who specializes in depictions of Afro-Cuban dance music in cinema from Latin America and the United States, particularly on intersections between popular culture, politics, and commerce. She is currently an ACLS Emerging Voices postdoctoral fellow at UC Davis. Her research investigates representations of the Cuban mulata (a mixed-race woman of black, white, and indigenous heritage) in international cinematic productions from the mid-twentieth century.
Find more information here. 
Student Recital: Jacob Green, saxophone with Karen Rosenak, piano
Friday, May 6, 3 – 3:30 p.m.
Recital Hall, Ann E. Pitzer Center, Free
The program includes Jules Demersseman: Allegretto Brilliante, Paul Creston: Sonata for Alto Saxophone and Piano, op. 19 , Astor Piazzolla: Café 1930, and Joe Henderson (a jazz selection): Recordame
Find a direct link to the livestream here.
California's arts grant season continues
The California Arts Council, or CAC, has announced the opening of the second round of grant applications for its 2022 grant season, with applications now being accepted for nine grant programs.
Cycle B's programs include five funding opportunities for arts education and related arts workforce development, supported by the $40 million boost in support for the agency's creative youth development programs. Additionally, the cycle offers four funding opportunities for administering organizations to regrant funds for accessibility, folk, and traditional arts, and to provide technical assistance for grant recipients of the Cultural Pathways program, which supports new and emerging arts organizations that are rooted in communities of color, recent immigrant, and refugee communities, and tribal or indigenous groups. Operational support for statewide and regional arts service organizations and networks is also available during this round of grant funding.
Read the full announcement here. 
Coming up next week
Wangechi Mutu Will Give Thiebaud Lecture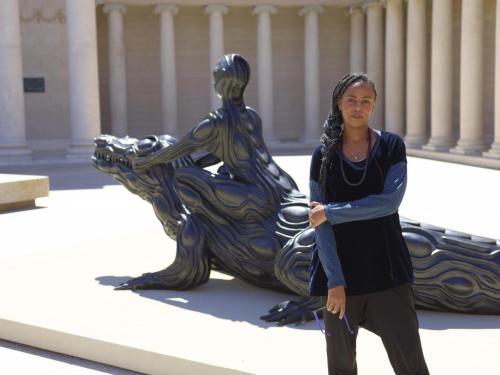 Wangechi Mutu in the Legion of Honor courtyard with her bronze sculpture "Crocodylus." (Randy Dodson / Fine Arts Museums of San Francisco)
Wangechi Mutu will give the Betty Jean and Wayne Thiebaud Endowed Lecture on May 12 at UC Davis. The 4:30 p.m. free talk at the Jan Shrem and Maria Manetti Shrem Museum of Art is presented by the Department of Art and Art History.
A native of Kenya who divides her time between New York and Nairobi, Mutu has had solo exhibitions at the Metropolitan Museum of Art in New York and others around the globe. Her sculptures, paintings, collages and films have been part of many group exhibitions including the Whitney Biennial at the Whitney Museum of American Art.
See the full article here.
- Jeffrey Day, College of Letter and Science.
'Voices of Spring:'

Students from the Voice Studio of Zoila Muñoz with Karen Rosenak, piano
May 10, 11 – 11:45 a.m., Recital Hall, Ann E. Pitzer Center, Free
The program includes Opera arias by George F. Handel, Giuseppe Verdi, W.A. Mozart, as well as art songs Gabriel Fauré, Hugo Wolf, and others.
Find a direct link to the livestream here.
Art social media of the week
Media Resources
Media contact: Karen Nikos-Rose, Arts Blog editor, kmnikos@ucdavis.edu
Primary Category
Secondary Categories
Tags