Quick Summary
See the cross-cultural concert offerings
UC Davis Music Department presents two concerts
Noon concert Thursday, Empyrean On Friday
Nancy Wu, Violin, Susan Lamb Cook, Cello, Karen Rosenak, Piano
Thursday, April 28, 12:05 – 1 p.m., Recital Hall, Ann E. Pitzer Center, Free, a Shinkoskey Noon Concert
The program includes Louise Farrenc: Cello Sonata in B-Flat Major, op. 46 and Ludwig van Beethoven:  Piano Trio in D Major, op. 70, no. 1 ("Ghost").
Find a direct link to the livestream here. 
'New Music' From Davis
Friday, April 29, 2022 - 7 p.m., Empyrean Ensemble, New Music from Davis, Recital Hall, Ann E. Pitzer Center
Sam Nichols, director
Featuring Hidejiro Honjoh, shamisen (and UC Davis artist-in-residence), the Empyrean Ensemble will present world premieres by UC Davis graduate student composers in its annual "New Music from Davis" program. Conducted by Matilda Hofman, UC Davis lecturer in music, the instrumentation of each new work complements the featured instrument, the traditional (and versatile!) Japanese 3-string plucked shamisen.
The program includes Trey Makler: wrapped around your finger​, Bryndan Moondy: Refract — Suspend​, Hiroya Miura: Knight's Crossing, Colin Minigan: Till the soil​, Dean Kervin Boursiquot: Spill, and Traditional: selections for solo shamisen.
Find more information and purchase tickets here. 
Ann Hamilton and Michael Mercil: The California Studio — Spotlight Artists in Residence
Thursday, April 28, 4:30 – 6 p.m., Anne E. Pitzer Center
Ann Hamilton is a visual artist internationally recognized for her large-scale multimedia installations, public projects and performance collaborations. 
Among her many honors, Hamilton has been the recipient of the National Medal of the Arts, Heinz Award, MacArthur Fellowship, United States Artists Fellowship, NEA Visual Arts Fellowship, Louis Comfort Tiffany Foundation Award, Skowhegan Medal for Sculpture, and the Guggenheim Memorial Fellowship. She represented the United States in the 21st São Paulo Biennial and the 48th Venice Biennial and has exhibited extensively around the world. Michael Mercil explores the realms of "the near, the low, the common" in works somewhere close to — if not always within — the categories of sculpture, drawing, painting, landscape architecture, film, performance, and farming. His work has been included in solo and group exhibitions organized by museums and art centers throughout the United States.
Together, Hamilton and Mercil developed The Living Culture Initiative, a project integrating their art practices within the core research framework of Ohio State University — a public land-grant college dedicated to teaching the "mechanical, agricultural and liberal arts."
Hamilton and Mercil are the spring quarter Spotlight Artists in Residence in The California Studio: Manetti Shrem Artist Residencies at UC Davis.
Organized by The California Studio in the Department of Art and Art History. 
Creative Writing Series, Theatre, Thursday
Ashwini Bhat and Forrest Gander combine poetry and art in lecture
Thursday, April 28, 7:30 – 9:30 p.m., Vanderhoef Studio Theatre, Free
Performers/writers/artists Ashwini Bhat and Forrest Gander will give two poetry readings in connection with their art exhibition "Ritual Encounters" in Mondavi's Vanderhoef Studio Theatre.
Bhat has a background in literature and classical Indian dance, and works at the intersection of sculpture, installation and performance. Gander won the 2019 Pulitzer Prize for Poetry and is the author of 16 poetry collections and two novels. He has translated 20 poetry collections from Spain, Latin America and Japan.
The events on April 28 are presented as part of SHAPE (Science, Humanities and Arts: Process and Engagement), an Andrew W. Mellon Foundation-funded program at the Robert and Margrit Mondavi Center for the Performing Arts. The installation is on view 10 a.m. to 3 p.m. Monday through Saturday, May 6.
Theatre performance 'Alone Together'
This student performance is free.
The UC Davis Department of Theatre and Dance will present Alone/Together, a series of devised short solo performances about the movement from isolation to being-with-others (and back again) during the Covid-19 pandemic.
The show will perform in Arena Theatre, Wright Hall, April 28-30. The event is free and begins at 7 p.m. Seating is limited, make a reservation.
More here.
Las Cafeteras brings music fusion Thursday night, 'Danzantes' brings Mexico traditions Saturday
Thursday, April 28, 2022 - 7:30 p.m., Mondavi Center's Jackson Hall
Remixing roots music and telling modern day stories, Las Cafeteras create a vibrant musical fusion with a unique East LA sound and a positive message. Their Afro-Mexican beats, rhythms, and rhymes deliver inspiring lyrics that document stories of a community seeking love and justice in the concrete jungle of Los Angeles. Using traditional Son Jarocho instruments like the  jarana, requinto, quijada (donkey jawbone) and tarima (a wooden platform), Las Cafeteras sing in English, Spanish, and Spanglish and add a remix of sounds, from rock to hip-hop to rancheras. Las Cafeteras use music as a vehicle to build bridges among different cultures and communities, and create 'a world where many worlds fit'.  
Find more information and purchase tickets here.
Watch a sample of their music here.
Danzantes Del Alma Annual Dance Show:

Bailando de Costa a Costa
Saturday, April 30, 6 p.m., Mondavi Center's Jackson Hall
After two long years, student troupe Danzantes del Alma takes the stage once again to celebrate its 43rd Annual Showcase "Bailando de Costa a Costa." Founded in 1977, Danzantes del Alma is a holistic retention program under the Cross-Cultural Center that works with students to promote retention and higher education while allowing them to connect with their culture. Join in as they celebrate culture with a variety of different dances from states throughout Mexico.  
Find more information and purchase tickets, available at various price ranges $20 and less, here.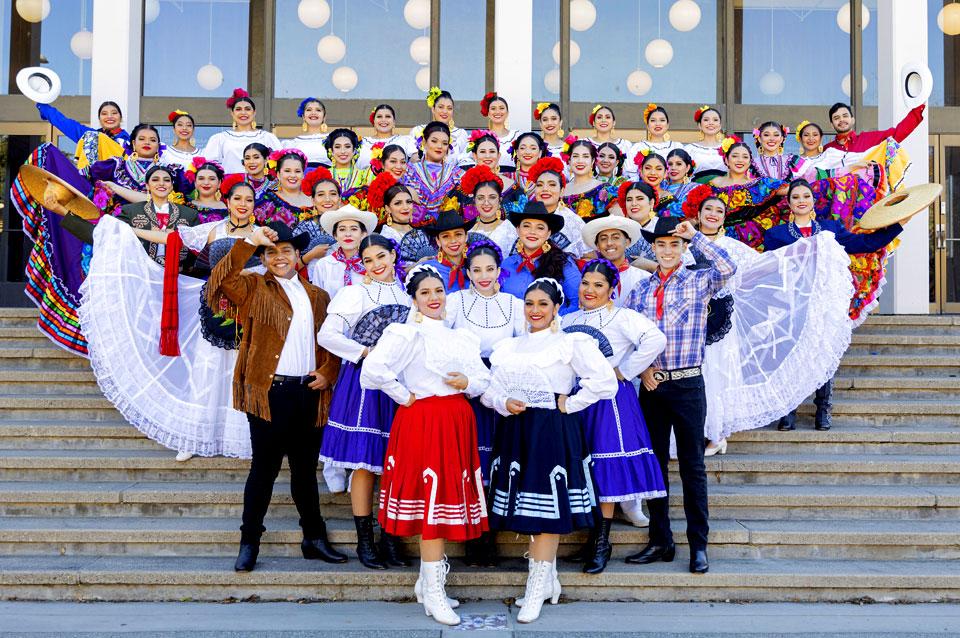 $10 tickets for staff and faculty (limit two per person) to attend a concert by pianist Lara Downes, performing two suites: World of Change and Promise to Keep. 7:30 p.m. Friday, May 6, Jackson Hall, Mondavi Center for the Performing Arts, in person. Offer good now through May 6. Use Promo Code BEWELL2122.
A staged reading of Native Gardens by Karen Zacarías at TANA
April 30 and May 1, Free, Saturday: Reception at 6 p.m., Performance at 7 p.m., Sunday: Reception at 1 p.m., Performance at 2 p.m. 
Taller Arte del Nuevo Amanecer (TANA) Studio and Gallery 1224 Lemen Ave., Woodland
This is the first event through Davis Shakespeare Festival's current project, Vacancy Arts Collective (VAC). Taller Arte del Nuevo Amanecer (TANA) is co-producing and hosting this free outdoor staged reading at their space in Woodland. TANA will also premiere original screen prints inspired by the play. Join an hour before the show for a welcome back reception with complimentary tacos, aguas frescas, visual art, and live music. ¡Nos vemos allí!
Native Gardens brings us to two adjoining backyards with two very different couples: the Del Valles and the Butleys. The new neighbors seem like they'll get along until they discover a problem with the property line. As urgency to solve the issue ramps up, we consider pertinent themes: ownership, identity, and privilege. Native Gardens is a vibrant comedy that asks us a vital question as we emerge from the pandemic — what is our relationship to the land we inhabit? The cast features Beatriz Figueroa, Robin Fisher, Tim Gaffaney, and Pano Roditis. Production team includes Gia Battista, Madeline Hamaguchi, Pablo Lopez, and Rob Salas.
Karen Zacarías is one of the most produced playwrights in the nation. She is one of the Inaugural Resident Playwrights at Arena Stage in Washington, DC, and is a core founder of the Latinx Theatre Commons. More at karenzacarias.com
American Sign Language  interpreters will be at both performances.
Admission is free and there will be complimentary food and beverages. Artwork is available for purchase. Admission is limited and seats are assigned — reserve  at shakespearedavis.org
Taller Arte del Nuevo Amanecer (TANA) is a collaborative partnership between the Chicana/o Studies Program at the University of California, Davis and the greater Woodland community. TANA offers a fully functioning silkscreen studio, Chicano/Latino Arts exhibition space, and a teaching center for the arts. Through exhibiting, printing, and teaching, TANA cultivates the cultural and artistic life of the community, viewing the arts as essential to a community's development and well-being.
Find more information and reserve tickets here.
Seasonal Gestures: Paintings by Gayle BonDurant at the Pence
May 1 – 29, Reception: May 13, 6 – 9 p.m.
The evocative feel of seasonal change is the catalyst behind Gayle BonDurant's drawings and paintings. She works in several media, from cold wax and oil paint to graphite and watercolor. In watercolor and ink, her still-life compositions of solitary objects such as a flowering branch or a single piece of fruit are painted to capture the essence of nature. Articulating the subject through color is a key element in these works. In her mixed media panels, BonDurant departs from the observation of nature, applying layers of wax, pigment, and paper to create shifting passages of texture and diffused color.
Find more information here.
Coming Up Next Week
Lunn lecture features Maya Phillips
New York Times Cultural Critic Maya Phillips will explore "Storytelling in the Multiverse of Madness" in a talk on Thursday, May 5 at 4:10 p.m. at the Jan Shrem and Maria Manetti Shrem Museum of Art at UC Davis — one day before Dr. Strange opens in theaters nationwide.
The multiverse, long a topic of science fiction and fantasy, seems to be popping up in narratives everywhere. 
The concept that originated in quantum mechanics features prominently in the "Rick and Morty" animated TV series, the recent film Everything Everywhere All At Once and the latest Marvel movie, Dr. Strange in the Multiverse of Madness.
The annual Lunn Lecture commemorates Eugene Lunn, a cultural and intellectual historian who taught at UC Davis from 1970 until his death in 1990. The lecture is supported by a donation from alumnus Michael Tennefoss (B.A., political science and economics, '80).
Free and open to the public. See more here.
A Celebration of Poetry and Translation with Readings & Conversation at TANA
May 3, 6 p.m.
Join TANA for a reading and conversation with Pulitzer Prize winning poet and translator Forrest Gander to celebrate the publication of Mexican poet Coral Bracho's "It Must Be a Misunderstanding" in English translation. Introduced and moderated by poet Andre Naffis-Sahely and UC Davis professor Katie Peterson, Gander will read from Spanish translations and his own original poetry, talking about his decades-long career in translation and its effect on his creative work. 
TANA is located at 1224 Lemen Ave, Woodland.
Artists for Amnesty at John Natsoulas
May 4 – June 4th: Artists for Amnesty Exhibition
May 7, 7 – 10 p.m.: Artists for Amnesty opening night with live music and refreshments
More than three decades ago, John Natsoulas founded Artists for Amnesty with the belief that the voices of artists in response to international injustice should be seen and heard. Artists for Amnesty ran for many years before Nastoulas opened his gallery, raising thousands for Amnesty International. Now, hoping to amplify artist's demands for peace and understanding in troubling times, The John Natsoulas Gallery is hosting a new Artists for Amnesty exhibition and benefit, where the artist community can foster a dialogue with the world through their art while helping to raise funds for refugees, political prisoners, those enduring torture, and other victims of human rights abuses. This is a rare opportunity to see fine works from artists around the world while contributing to efforts towards peace and a common understanding between all humanity.
Find more information here.
Social Media of the Week
Primary Category
Tags